There are two types of multiplication for matrices, Scalar and Vector. Scalar is the distance of an object; whilst Vector is the distance and the direction of an object. Today's notes will be focusing on Scalar Multiplication. Scalar multiplication consists of a matrix multiplied by a given number.

Examples:
1.







2.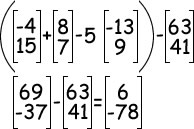 To identify an unknown value of an matrix equation; use the existing values to find the unknown. Though said values can only be used if they have the same address.

Example:









Until tomorrow, goodbye.
As a reminder to anyone who hasn't read/watched the Digital Ethnics post, please do so now.